Land of the Midnight Sun - Finland Wilderness Adventure
An amazing wilderness adventure above the Arctic Circle
With a beautiful base in Oulanka National Park, this trip lets you take in the wild beauty of Finland through a range of activities while also taking the opportunity to watch the local wild bears in their natural state! Stay in an award-winning self-sustained wooden complex overlooking the lake and be surrounded by nature as jays and eagles soar overhead and bears roam nearby. Try something new each day - whether it's river rafting, hiking, canoeing, bear watching or simply unwinding in the sauna.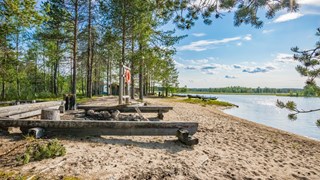 Your holiday includes
International flights
7 nights' accommodation on a twin share basis
Full board (7 x breakfast, 6 x lunch, 7 x dinner)
Return airport transfers, meet & greet on arrival
All guided activities and transportations as per itinerary
Daily use of canoes, kayaks, SUP boards
Daily use of sauna and hot tub
Your holiday extras
Drinks

Items of a personal nature

Tips and gratuities

Meals not mentioned in the itinerary

Activities not mentioned in the itinerary
Perfect for anyone looking to escape the crowds and get back to nature, Finland is home to some of the most sparsely populated areas of Europe. The landscapes are magical, and you will feel as though you've stepped into a time gone by. The climate and magnificent scenery make for an array of exhilarating adventures, canoeing and rafting to learning wilderness skills and Bear watching! When you're not walking through spectacular landscapes or getting to know the local wildlife, the sustainable lodge offers a relaxing retreat, complete with a sauna and hot tub to enjoy each evening after a sumptuous evening meal.
Location & Itinerary
Day 1. Arrive Kuusamo and transfer to Basecamp Oulanka.
Welcome to the land of the Midnight Sun! In late June – early July there can be up to 22 hours of daylight. You will be met at the airport and transferred to your cosy sustainable lodge in the heart of the Oulanka National Park, overlooking the tranquil Juuma Lake. The property is a 'positive footprint destination' and embraces sustainable technology in every way possible, from the biomass-run heating to the hot tub which is run on excess heat from the sauna. All the food for the restaurant is sourced nearby, and tonight you will sit down to a delicious three-course meal involving elk, salmon or locally grown vegetables, washed down with a glass of wine.
Seven nights lodge accommodation. Meals included: Dinner
DAY 2 INTRO WALK, BEAR WATCHING
After breakfast, we have a briefing on this week's programme and Basecamp's facilities and services, followed by a short walk in Oulanka National Park. Our guide will introduce you to some basic wilderness skills, such as fire making, orienteering and basic first aid.
In the late afternoon we spend the evening with brown bears. We head to the northernmost bear watching place in Finland, where we can see these majestic animals in their own, natural habitat. Brown bears are very active during the summer months, there can be more than a dozen individuals visiting the area, including mother bears with their cubs. The bear hides have large windows for excellent views and plenty of openings for camera lenses. There is a kettle and dry toilet in each hut, as well as beds with sleeping bags if you feel tired at any point during the evening. Depending on the amount of daylight and the activity of the bears, we leave the hut around 11pm and arrive at Basecamp by midnight.
Meals: Breakfast, lunch, dinner box
DAY 3 CANOEING IN JUUMA LAKE
After a late breakfast, our guides introduce you to the basic skills of paddling. You learn how to safely board the canoe, basic manoeuvring skills and personal safety on the water. While learning the basics, you also get to enjoy beautiful sceneries and harmonise yourself with the nature.
After the introduction you are able to enjoy the crystal-clear waters and beautiful surroundings on Juuma lake. The canoes, kayaks and SUP boards at Basecamp are free for you to use during the whole week.
In the afternoon and evening, we suggest you experience our traditional lakeside sauna. This is a wood-heated sauna that provides the best steam and relaxation. The sauna is in a separate, private building that includes the sauna itself, washroom, dressing room and lounge room. It is just a few steps away from our sandy beach allowing you to take a dip in the lake to cool off after your bathing session.
Meals: Breakfast, lunch, dinner
DAY 4 OULANKA RIVER
Today we explore the Oulanka River, one of the two rivers flowing through the Oulanka National Park, practicing the paddling skills we learned yesterday.
The Oulanka River has been said to be the most enchanting paddling route in Europe! We will be canoeing the route on the lower part of the river, 25 kilometres long, stretching from Oulanka Visitor Centre to the eastern border zone. The route is easy and does not require any previous experience in canoeing.
We paddle along the river enjoying the silence and wilderness around us. There are multiple spaces to get off the canoe to take a break, swim in the clear waters and enjoy all the nature wonders and enchanting views. We have a picnic lunch by a fireplace and arrive to the border zone in early evening. This day trip will last around 8 hours, transfers included. Meals: Breakfast, outdoor picnic lunch, dinner
DAY 5 PIENI KARHUNKIERROS (LITTLE BEAR TRAIL) IN OULANKA NATIONAL PARK
In the morning, we pack our lunch into a backpack and head to the wilderness directly from our doorstep.
Finland's most popular day trail, the Pieni Karhunkierros, takes us to the southernmost part of Oulanka National Park. On this scenic day trail, you can admire the beautiful wilderness of Oulanka: the gushing rapids, the steep cliffs, and the sheltered forests. We will visit the Myllykoski rapids, Jyrävä waterfall and Kallioportti viewpoint – one of the most famous sights in the park. In addition to the spectacular sights, you can also explore a variety of the flora and fauna, including the mountain aven and the wild berries, on this trail.
The path leads us to the picturesque Myllykoski water mill from where we continue our expedition across a suspension bridge to the calm and tranquility of the taiga forest. Oulanka is unique for its own microclimate, which allows many rare plants to thrive in the national park area. During the hike, our guide tells interesting information and amusing anecdotes about the surrounding nature, animals and the history of the area.
Mid-hike we enjoy a forest picnic. During the hike there is plenty of time to pause and photograph and admire the surrounding nature. This trail is full of beauty from start to finish! The length of the loop from Basecamp Oulanka is approximately 10 km, duration 4-6 hours. The route is moderate graded with some steep sections.
After the hike, it's time to kick off your hiking boots and relax your aching muscles in the warmth of our saunas and the hot tub.
Meals: Breakfast, outdoor picnic lunch, dinner
DAY 6 OPTIONAL ACTIVITIES (cost not included)
Today is a resting day, however, we have a selection of optional activities, both guided and self-guided, available for extra fee.
Nature-friendly river rafting: Kitka River is one of the two big rivers in Oulanka National Park, famous for its rapids. This rafting trip upstream of the river contains seven of them! An easy, fun and suitable for all rafting experience.
Oulanka Canyon and the Arctic Circle: Join us on a this 6 km trail on the northern part of the National Park, running along the deep canyon of the fast-flowing Oulanka River, and let the small wonders of nature come close to you. After this 2-3 hour hike, we continue to the nearby village of Hautajärvi right on the magical Arctic Circle to get our Arctic Circle Crosser diploma and enjoy lunch in the visitor centre.
Visit to a reindeer farm: Experience the world of reindeer visiting an authentic reindeer farm. Learn more about reindeer farming, feed the reindeer with their calves, go hiking with them or join a reindeer yoga session!
Visit to Ruka: Known as one of the biggest ski resorts in Finland, Ruka has a variety of activities to offer during the summer season, too. Less than a half an hour's drive from Basecamp, you can glide over the Ruka fells on the world's northernmost zipline or try downhill biking down the ski slopes in Ruka Bike Park, to name a few.
Meals: Breakfast, lunch, dinner. Packed lunch can be requested by those who plan to spend a day away from the camp.
DAY 7 RIVER RAFTING
Today we spend the day rafting downstream Kitka river, starting from Basecamp's sandy beach all the way down to the eastern border zone. This excursion combines the wild rapids and most stunning landscapes of the National Park.
During the route we navigate through the three largest rapids of the Kitka river. The highlights are Myllykoski and Aallokkokoski rapids, where we are guaranteed to get wet, the adrenaline will flow and teamwork is necessary!
After Aallokkokoski, we explore the mighty Jyrävä waterfall by foot and continue our journey by raft from below the waterfall. The next few kilometres we paddle along the rugged Kitka canyon enjoying its breathtaking scenery. The almost continuous small rapids give us a sense of adventure while admiring the ancient limestone cliffs. The diverse nature of the river is truly impressive. At lunchtime, we stop at one of the riverside campfire sites to enjoy our outdoor lunch. Later, the journey drifts into calmer waters and in complete silence, surrounded by an old forest and meadows, towards the border zone. At the end we take a short walk to Vihvilänlamminkangas, the biggest elk destruction area in Europe, which looks like a huge bonsai garden. The return transfer to Basecamp Oulanka takes approximately 45 minutes.
Meals: Breakfast, outdoor picnic lunch, farewell dinner
​Day 8. Transfer to Kuusamo for flight to the UK.
You will be picked up from your hotel and taken to the airport for your flight.
Meals included: Breakfast
The order of days/activities may change due unforeseen circumstances (bad weather etc.) or for operational reasons.
Travel & Stay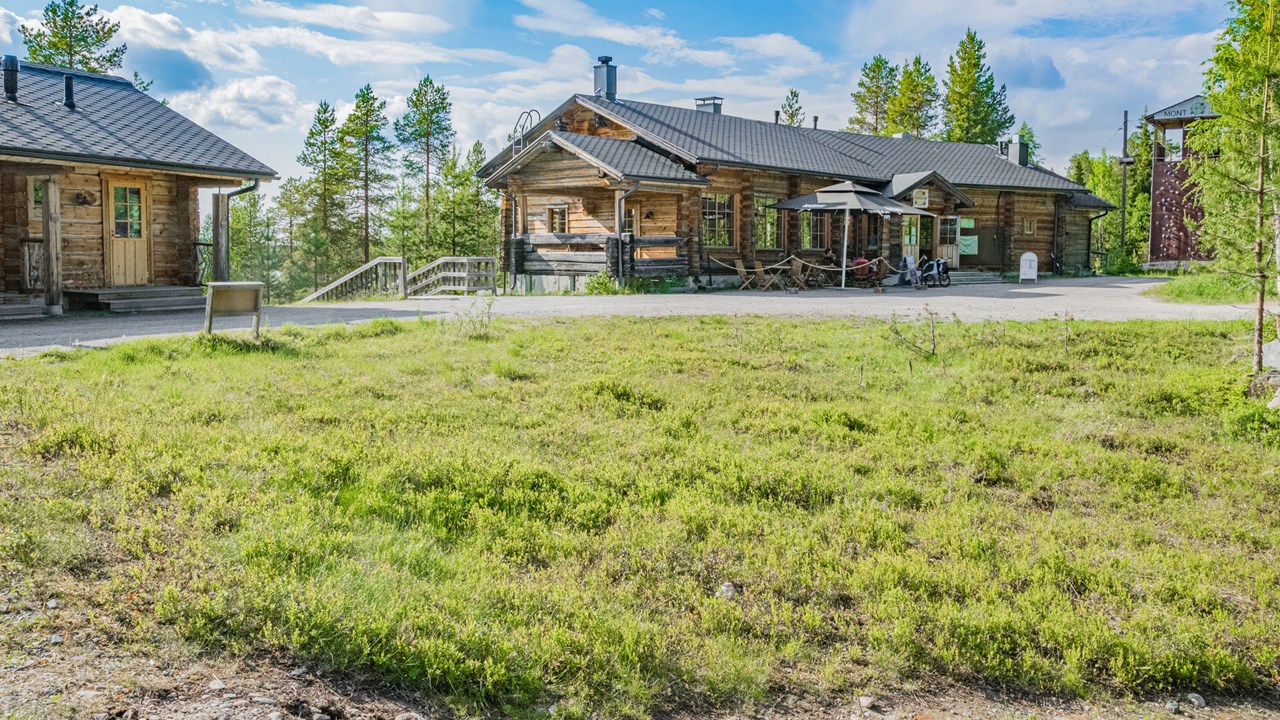 Accommodation will be reserved for you on a twin share basis in hotels unless you have already requested a single room at a supplementary cost. Basecamp Oulanka is an award-winning self-sustaining wooden complex that blends into the wilderness that surrounds it. There is a cosy restaurant and bar with a log fire, sauna and outdoor hot tub. The heating system used throughout the complex relies totally on nature using special wood pellets for fuel.
Provisional flight Information
29/06/24 London Heathrow to Kuusamo Dep: 1020 Arr: 2035
06/07/24 Kuusamo to London Heathrow Dep: 1045 Arr: 1510
29/06/24 Manchester to Kuusamo Dep: 0720 Arr: 2035
06/07/24 Kuusamo to Manchester Dep: 1045 Arr: 1705
29/06/24 Glasgow to Kuusamo Dep: 0705 Arr: 2035
06/07/24 Kuusamo to Glasgow Dep: 1045 Arr: 1855
All flights are indirect via Helsinki. Manchester & Glasgow also route via London Heathrow.
| Accommodation | Price | |
| --- | --- | --- |
| Place in a twin share room | £0.00 | Available |
| Place in a single room | £250.00 | Available |
| Flights | Price | |
| London Heathrow | £2325.00 | Available |
| Manchester | £2475.00 | Available |
| Glasgow | £2575.00 | Available |
Not enough spaces left for you? Click here to join the waitlist
Passport validity
You should have at least 3 months remaining on your passport from the start date of your holiday and your passport must be less than 10 years old (even if it has 6 months or more left).
Travel Insurance
Please ensure that you have adequate personal travel insurance to suit your requirements in place before you travel. Spice Escapes have arranged a scheme with Staysure who are fully authorised and regulated by the FCA (firm reference number 663617) full details of which can be found on the FCA website www.fca.org.uk. For an instant online quotation please click here.
Health
Make sure you visit your local health centre at least 2 months before departure, to be advised on any vaccinations needed. Your doctor will also have access to the most up to date information on vaccinations and medical precautions for the country you are about to visit. We recommend bringing a personal first-aid kit containing the following: high factor sun cream, lip salve, moisturiser, plasters, antiseptic cream, insect repellent, cold/flu tablets, throat lozenges, electrolyte powder, aspirin or equivalent, muscle rub, nail scissors, 100mm elastic bandage, knee/ankle supports if needed, and wet wipes. For more information we recommend visiting fitfortravel.scot.nhs.uk
Money
The currency in Finland is the Euro. We recommend that you change some money before your departure or at the airport. Please refer to www.xe.com for up to date rates.
Tips
Tipping is the accepted way of saying 'thank you' the local team. Tipping is entirely voluntary and should be dependent on good service. We advise you to tip as a group.
Electricity
We recommend you check if you require an adaptor for your electrical items at:
http://www.worldstandards.eu/electricity/plugs-and-sockets/
Why Book with Spice Escapes?
40 Years' Group Travel Expertise
1300+ trips, 10000+ smiles
Not floating your boat? Check out our other Escapes…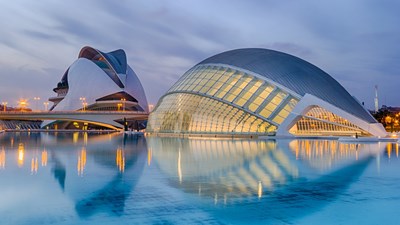 Wed 06 Mar 2024 - Sun 10 Mar 2024
Discover Valencia - a city of contrast from charming old town history to ultra modern cutting edge innovation. This 5 day break gives a little more time to enjoy the city to its fullest!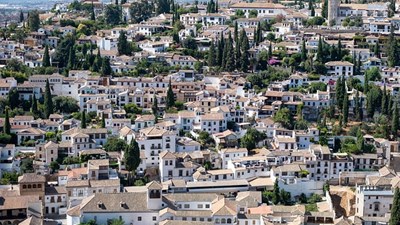 Sun 02 Jun 2024 - Sun 09 Jun 2024
The scent of orange blossom, the swish of a flamenco dress, the glimpse of a white village perched atop a crag: memories of Andalucía linger. Come and join us as we explore the wonderful region of southern Spain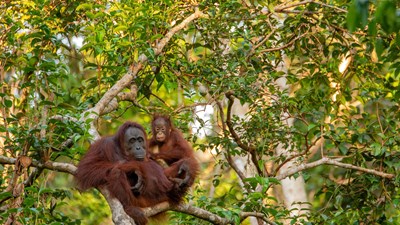 Sat 15 Jun 2024 - Fri 28 Jun 2024
Known for its beaches, ancient biodiverse rainforest and exotic wildlife, if the mystical Borneo is not on your bucket list, it should be!