Ski Arabba
The stunning Sella Ronda circuit awaits
The ski resort Arabba is part of the world famous Sella Ronda ski circuit in the Italian Dolomites. Of all the resorts that make up the Sella Ronda circuit, Arabba has some of the most interesting slopes, with some challenging pistes and the Marmolada glacier within easy reach it is a real skier's holiday base.
Your holiday includes
International flights
Transfers
3* hotel accommodation (local rating)
Hotel tourist tax
7 breakfasts & 7 evening meals.
22kg hold luggage
Your holiday extras
Single supplement if required.
Drinks & some meals
Optional extras.
Ski Requirements (Last seasons prices as a guide) – Area Lift Pass - €370; Ski & boot hire from £132; Ski/Snowboard Tuition from £175; Ski Carriage on Manchester Flight £60
Personal travel insurance
For skiing and snowboarding locally there are 63 km of slopes available, 26 lifts and skiing between the elevations of 1,446 and 3,269m. Not enough for me you may say, until you add in the additional 1150km of connected slopes incorporated in the Sella Ronda! In around 5 to 6 hours, this panoramic circuit takes you through the ski regions of Alta Badia, Gröden (Val Gardena) and Val di Fassa (Fassatal). The Sella Ronda can be skied in two different directions - the higher and more challenging orange tour goes in a clockwise direction, while the green tour follows an anti-clockwise direction. If you've not done it before and like the idea of getting some ski miles under your belt, you'll be keen to try the celebrated Sella Ronda circular tour. The 25 mile tour (16 miles of actual skiing) can be achieved fairly easily in a day.
For the intermediates there are a variety of slopes with mainly blue and red runs on the Porta Vescovo and the Passo Pordoi. Beyond Arabba's main ski area, the Sella Ronda and the Alta Badia areas provide extensive skiing, while advanced skiers will find some exciting and challenging runs as well as some testing skiing on the Marmolada Glacier. Snowboarders can find some varied runs around the resort plus a snowpark and half pipe at Passo Pordoi.
Location & Itinerary
Resort Information
Skiing Levels
Beginners 3/5
Intermediates 5/5
Advanced 4/5
Snowboard 4/5
Mountain Facts
Area 1220km Dolomites/63km Arabba
Resort Altitude 1602m
Ski Alt. From 1446m
Ski Alt. To 3269m
Local Runs – 20 Blue / 16 Red / 4 Black (Dolomites 366km Blue/732km Red/122km Black)
Longest Run 12km
Local Lifts - Chairlifts 16, Draglifts 1, Gondolas 4, Aerial tramway 5
Snow Cannon Coverage 98% local
Snowpark Info - 1
Travel & Stay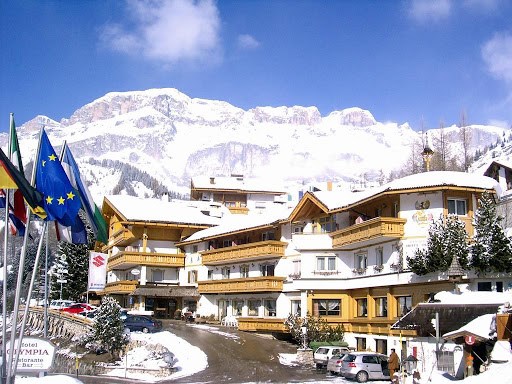 Hotel Olympia
Friendly service and fantastic staff await at the Hotel Olympia. It's about 500 metres from Arabba centre and the Burz ski lift where there is also great heated ski locker room you can use so you don't have to carry everything. After a day on the slopes you can relax in the hotels sauna or whirlpool. The hotel bar is spacious and nice for a drink in the evenings if you're not heading into town. The hotel has a traditional Tyrolean feel with lots of pine throughout and is slightly above the town, so you can get some really great views.
Accommodation is in single, twin and double share rooms.
Single rooms at this hotel are singles (not sole occupancy) and are smaller than the shared rooms.
Provisional Flight Information
27/01/24 Heathrow to Innsbruck Dep: 0915 Arr: 1205
03/02/24 Innsbruck to Heathrow Dep: 1255 Arr: 1355
27/01/24 Manchester to Innsbruck Dep: 0900 Arr: 1215
03/02/24 Innsbruck to Manchester Dep: 1315 Arr: 1435
Heathrow – BA, 23kg hold, up to 90cm x 75cm x 43cm . Hand baggage allowance 1 cabin bag Max. 23kg up to 56 x 45 x 25cm, PLUS 1 handbag Max. 23kg up to 40 x 30 x 15cm. Ski Carriage included but must be booked in.
Manchester – Jet 2, 22kg hold, cabin bag 10kg and is no larger than 56cm x 45cm x 25cm, including any wheels and handles. Ski carriage £60
Transfer to resort: 3 hrs
Availability & Pricing
| Flights | Price | |
| --- | --- | --- |
| Manchester | £1135.00 | Sold Out |
| London Heathrow | £1205.00 | Sold Out |
| Accommodation | Price | |
| Place in a Double Share Room - Must be 2 | £0.00 | Sold Out |
| Place in a Male Twin Share Room | £0.00 | Sold Out |
| Place in a Twin Share Room | £0.00 | Sold Out |
| Place in a Single Room | £250.00 | Sold Out |
| Option | Price | |
| Heathrow ski carriage | £0.00 | Sold Out |
| Manchester ski carriage | £60.00 | Sold Out |
Not enough spaces left for you? Click here to join the waitlist
Passport validity
You should have at least 6 months remaining on your passport from the start date of your holiday and your passport must be less than 10 years old (even if it has 6 months or more left).
Travel Insurance
Please ensure that you have adequate personal travel insurance to suit your requirements in place before you travel.
A UK Global Health Insurance Card (GHIC) gives you the right to access state-provided healthcare during a temporary stay in the European Union (EU).
UK-issued European Health Insurance Cards (EHICs) are still valid and offer the same cover as GHICs in the EU.
Once your EHIC has expired, you'll be able to replace it with a GHIC.
NB – A GHIC/EHIC is not a replacement for travel insurance!
The latest FCO travel guidance for Italy
Why Book with Spice Escapes?
40 Years' Group Travel Expertise
1300+ trips, 10000+ smiles
Not floating your boat? Check out our other Escapes…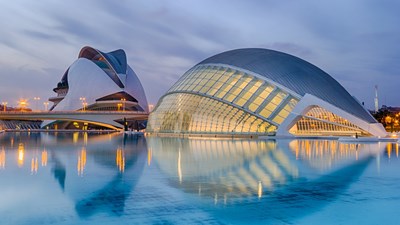 Wed 06 Mar 2024 - Sun 10 Mar 2024
Discover Valencia - a city of contrast from charming old town history to ultra modern cutting edge innovation. This 5 day break gives a little more time to enjoy the city to its fullest!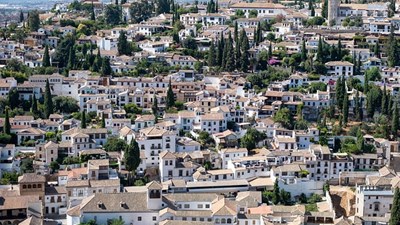 Sun 02 Jun 2024 - Sun 09 Jun 2024
The scent of orange blossom, the swish of a flamenco dress, the glimpse of a white village perched atop a crag: memories of Andalucía linger. Come and join us as we explore the wonderful region of southern Spain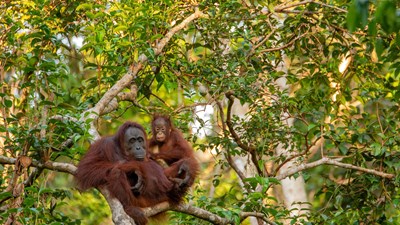 Sat 15 Jun 2024 - Fri 28 Jun 2024
Known for its beaches, ancient biodiverse rainforest and exotic wildlife, if the mystical Borneo is not on your bucket list, it should be!