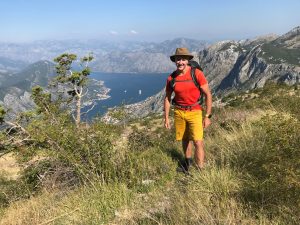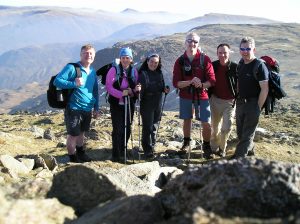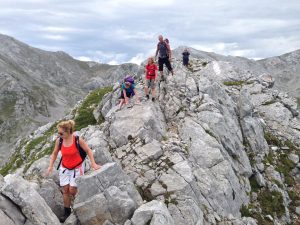 A man who met his wife dressed as a Christmas tree (she was a shining star).
A well-travelled walker who's played pool with a sheepdog.
An accredited mountain leader whose hand is as big as ten miles and who can point out a unicorn in the mist at Low Pike in

Ambleside. ('People think they don't exist!')
Who better to ask about Spice walking weekends and Spice Escapes walking holidays than Andrew Casey, Co-Founder and Director of WalkWise
WalkWise's Andrew Casey: the Man, the Myth, the Legend
Walking in Utopia
Andrew has lived, worked and walked in many different parts of the world. So I start by asking him if he has any favourite destinations.
Andrew isn't, in fact, big on comparing but prefers to contrast destinations. Generally, he thinks everywhere is fantastic in its own way.
'I think, if push came to shove, it would be the Lakes. And that's the whole of the world. Of any place I've been, I think it's the best place ever.'
High praise, indeed, considering Andrew spent three months on his own doing the circuit around Everest Base Camp. A memorable highlight of his years abroad.
But, as Andrew explains, 'there are no levels in Utopia. If you're myself or my business partner, Gideon, it won't matter which walk you're on – hard walk, moderate walk. You will come back and you'll be asked "how was it?" '
The answer?
'Only perfect!' Every time.
Why walk with Spice?
I ask Andrew why he would recommend going on a Spice walking trip.
'It's the camaraderie. It provides people what they're looking for. Safe, sociable walking and maybe attaining what you couldn't do on your own. Being with people. You get to chat – an old skill. And you're not on your phone. Going to the pub, chatting away all evening. It's lovely. It's such a simple, old-fashioned thing to do but it really works.'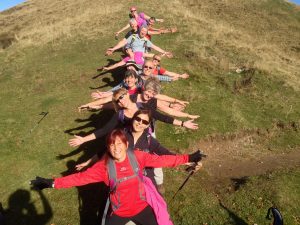 'You really get to know people and they're very friendly. It's a nice, warm fuzzy feeling being with the Spice groups.' 
Andrew Casey, WalkWise
And Andrew makes the point that you'll meet new friends. Everyone will feel safe and integrated.
'Even if they come on their own, they won't leave on their own. Because there are often new members and they are highlighted to us. Spice try to tip us off about who the new members are and we try to make a fuss of them.'
Spice walking holiday in Lake Como. One foot in Italy, one foot in Switzerland
Not having to think
Where Andrew feels people really benefit from going on a Spice walking holiday is having the freedom to switch off.
'One of the key things is not having to think between Friday and Sunday,' Andrew tells me. Because many of the people who come on Spice walking weekends are city based, often in high-powered jobs.
'They're maybe thinking too much, Monday to Friday. They're wanting to switch off and we allow that to happen. Come Friday, we'll tell them "Your meal's over here, the bar's over there." Then the next day, "You're going walking from here. Collect your picnic lunch. This is the pub we're meeting in. Evening meal is at 7." And so it's all catered for. They don't have to think, which is lovely for them.'
'It's priceless for your mental health,' Andrew adds. 'You're not thinking about the mortgage, the gas bill or whatever else you might be concerned about. It's gone because you're so busy striving to get to the top of this hill. You're just having fun.'
Are your walks quite challenging?
'It's a balance,' explains Andrew. 'There are normally two walks; one we'd describe as moderate (we don't do any easy walks as such), the other hard. And the hard walk is kept quite hard. Hopefully people see what we do and then they rise to that challenge.'
For both WalkWise walks, you're walking all day. With the hard walk, you'll cover ten miles and climb 3,000 ft. For the moderate walk, you're looking at eight miles and 1,500 ft.
What's an ideal walk?
'Your ideal walk has a variety of habitats. They're changing all the time and that's why it's a lovely walk.
'You don't know why you're enjoying it but it's because I've just taken you down the side of a stream, then I've taken you over some moorland, taken you by the side of a lake. Then I've taken you through a forest. We've had some lunch and then we've gone through some pastureland with some animals and I've gone back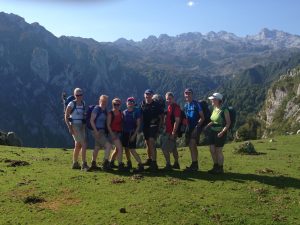 down another tributary to somewhere else.
'You'll probably have a nice tea shop along the way and definitely have a nice pub at the end!'
'The variety of habitats, which is changing every half hour/max every hour, makes the walk pleasurable.'
Andrew Casey, WalkWise
'You become an expert in finding this variety of habitats, stitching them all together to make a perfect walk. People might not know that's what you've done but that's your ideal walk.'
Hiking the Picos de Europa, Northern Spain, with Spice
How do you come up with the walks? What's your process for designing them?
'My hand is ten miles. I can put my hand on a map and that will be ten miles on a 1:25 000 map. I'll find some hills in there and within that circle I'll piece together all those varieties of habitats. And that's a day's walk.'
How do you plan your walks abroad?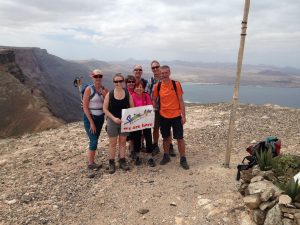 'We do a recce of everything. You've got to do that. Because if a path isn't being looked after by the local associations (whoever they may be) it might be full of spiders and webs and it'll just be a jungle, an overgrown thing. So I walk all the walks before and then I write off the bad bits. If in a day we're going to do ten miles, I'll often do 20 miles on a recce. So when people come out, the walk is perfect. I may have gone through hell myself to get there but they've got the best ten-mile walk available.'
¡Aquí estamos! Spice walking holiday in Lanzarote
How should novice walkers prepare for a WalkWise trip?
Andrew has ten top tips.
Gradually build yourself up to coming on a weekend trip.
Find your local walking group. Get down to your local Spice club. Have a word with the coordinator. See where the walks are, who's leading them, and get out and do those walks.
Before every WalkWise event, you'll be given a kit list. Use the day walks with your local club to get the hang of what to bring and how to pack.
Buy yourself a set of walking boots and wear them in – around your house, on your local walks.
Get yourself a day walking pack. A 30–40 litre one; you don't want it too big. Try it on. Make sure it's the right size and the straps don't rub. Have it fitted in an outdoor shop. They put a lot of weight in and then you can try it and adjust it.
Get used to how you're going to carry water. If you're using a hydration bladder such as a Platypus, check it's the right way up – or you won't get any water when you go to drink out of it!
Make sure you've got a waterproof jacket and waterproof trousers. And a decent pair of gloves – not leather!
Find some hills. If you've only got one hill, then build up gradually so you can go up multiple times.
Build up to walking all day. You're probably already used to walking for one or two hours a day – walking the dog or just being out and about. You're going to need to double that to four hours. And then eventually, you'll want to get up to walking six hours, which is the same as you'll be doing with WalkWise.
And get used to the level of our walks in the UK before going on an international trip because you will have five days walking, not just two as on a weekend.
One last question: Walking would not be the same without…?
A pub at the end!
Spice Escapes has a number of walking weekends and holidays for a variety of levels. We pride ourselves on our hosted holidays for groups and solo travellers